For Husbands, Friends, and Relatives of Quilters,

Here are some Christmas Gift ideas for that Special Quilter of yours:
Gift Certificates (Any Amount)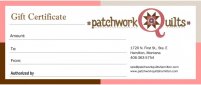 Gypsy Quilter Sit Upon ($29.00)
A softly inflated flexible disc used on chair seats to prevent fatigue, reduce pressure on the tail-bone, and help relieve lower back pain, while strengthening the core muscles and improving posture. It can be used on hard or soft chairs, recliners, car seats, or anywhere you sit.
Creative Grids (6-1/2in OR 12-1/2in) Square It Up or Fussy Cut Square ($17.49 - $29.95)
Dual-purpose: Use vertical, horizontal & diagonal lines to square up any 6-1/2in pieced, appliqued or embroidered block. To fussy cut, center a design in the 1in - 6in solid squares. The drilled holes at 1-1/2in - 5-1/2in increments lets you mark & add the seam allowance to fussy cut pieces.



Shape Cut for Strips/Block Template ($40.89)

Use with your rotary cutter & cutting mat. Cut multiple strips from 1/2in up to 12in, 1/2in increments. Save time on repetitive cuts for strip quilting. Turn Shape Cut after strips are cut to complete squares, triangles, diamonds or chevrons with ease. 12in x 12in.



Rotating Cutting Board Table 12in x 18in ($46.49)
The non-tippy rotating cutting table is based on the inLazy Susanin design. They are designed to work with the new resized Olfa Cutting mats. (Cutting mat not included.) FOB Manufacturer. 12in x 18in



Bendable Bright Light ($49.99)
Comes with a mounting kit to attach it to your sewing machine or other objects. Brilliant flexible light for detailed projects. Quality metal flexible arm and metal light housing. 100,000 light hours 120 volts energy effiecnt LED.



Various Floriani Thread Collections ($89.00 - $170.00)


Silhouette Cameo Bundle ($295.00)
In addition to the Cutter, the bundle includes 12" & 24" Cutting mats, $10 & $25 download cards, Cutting Blade, 1 ea Thick Craft and Thin Sewing Interfacing.